Aesthetic Crown Lengthening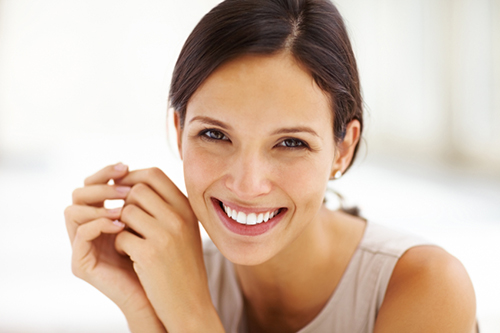 When you think about the perfect smile, what comes to mind? Most people tend to think about perfectly straight, pearly white teeth. While an important part of your smile, even perfectly straight white teeth can be dulled when they are covered by excess gum tissue. A condition is known as a "gummy" smile; excess gum tissue can make your beautiful teeth appear short. At Aesthetic Periodontal and Implant Specialists, we can fix this gumminess and restore to you a beautiful smile with aesthetic crown lengthening.


What is Crown Lengthening?

In its simplest form, a crown lengthening makes your teeth appear longer. An aesthetic crown lengthening is a surgical procedure designed to remove excess gum tissue, lessening the gumminess of your smile, to achieve this goal. Depending upon your specific needs, and the anatomy of your mouth, a small amount of bone may need to be removed as well. An aesthetic crown lengthening may also be used to reshape your gum line. When finished, you will be left with a beautiful smile you can't wait to show off.


Crown Lengthening Procedure

An aesthetic crown lengthening takes only a single visit and is performed under local anesthetic. The number of teeth that are being corrected, the amount of tissue that needs to be removed, and whether or not bone needs to be removed, all play into the length of time for your procedure. Even if you are only having a single tooth worked on, we will still adjust the gums above the adjacent teeth to create a more natural appearance.

After the anesthetic has taken effect, we start by making small incisions in the gum tissue. This provides access to the roots of your teeth, as well as bone. Excess tissue, and bone if applicable are removed. We then finish the procedure by washing your gums with a sterile solution and suturing them closed against the surfaces of your teeth.


Other Uses for Crown Lengthening

While a crown lengthening is used to remove excess gum tissue that impairs your smile, it can also be used to place dental restorations. Damage to teeth at or below the gum line can mar your smile, and impact your oral health. Crowns are necessary to protect the tooth as well as restore it. Excess gum tissue can prevent proper placement of dental crowns. A crown lengthening uncovers the imperfection and allows for the tooth to be prepared. Once done, the crown can be placed, and your smile restored once again.


Benefits of Aesthetic Crown Lengthening

An aesthetic crown lengthening has some different benefits:

| | |
| --- | --- |
| • | Your teeth appear longer, and no longer look like baby teeth. |
| • | The results are visible immediately. |
| • | Your oral health will be greatly improved. Excess gum tissue provides the perfect hiding place for harmful oral bacteria, which can promote gum disease. With the excess gum tissue gone, the bacteria have nowhere to hide. Regular brushing and flossing will help to keep your mouth as healthy as possible. |
| • | You are given a more attractive smile. |
| • | With an improved smile, you gain confidence, and you are much more willing to show off your smile. |

If your smile is marred by excess gum tissue, you may benefit from aesthetic crown lengthening. Contact Aesthetic Periodontal and Implant Specialists today to learn more!