Are Dental Implants Better Than Dentures?

San Antonio




At Aesthetic Periodontal & Implant Specialists, we are periodontal and implant specialists. Your dental health is important to us. We understand that missing teeth can be problematic. Missing teeth create unwanted space, which encourages plaque and bacteria to grow. Not having a full set of teeth can make it difficult to chew and eat, and can also make pronouncing words challenging. Not to mention the embarrassment of having gaps in your teeth.

Two alternatives to missing teeth are dentures and dental implants. Both have benefits and disadvantages. This can depend on the amount of missing teeth that you have, your lifestyle habits, if you have sufficient bone structure to support a dental implant, and if you are a candidate for oral surgery.


Dentures: Complete & Partials

Dentures are prosthetics that dentists use to replace missing or lost teeth and tissue. These restorations are mostly removable, but there are also implant-supported dentures. When you come to see us at Aesthetic Periodontal & Implant Specialists, we will provide you with options of dentures to choose from. We may recommend particular dentures depending on your bite problem. Complete dentures work for people who have their entire arch of teeth missing or where the remaining teeth are so badly damaged that they have to be pulled out. Partial dentures, on the other hand, are a choice if you have some teeth left, which do not need to be removed.


Complete Dentures

Full dentures may be placed immediately or thereafter. Immediate dentures are fabricated in advance and our dentist will fit them soon after your teeth are extracted. Traditional full dentures are placed about 8 to 12 weeks following tooth removal. When your teeth are pulled out, you need time for the gums to heal. Immediate dentures allow you to have temporary teeth that you can use during the time your gums are recovering after extraction. It is likely that the bones will shrink during the healing period, therefore, our dentist will have to adjust the temporary dentures more often to allow them to fit properly over the healing period.

Complete dentures appear more natural because they are primarily made of acrylic resin that resembles real teeth, and the base of these dentures matches the color of your gums. That way, they blend well in the mouth. Your complete dentures will allow you to eat your preferred foods and chew more effectively.


Partial Dentures

A partial denture comprises artificial teeth fixed to a gum-colored base made of special plastic. A metal framework is used to connect the base and hold the denture in place. There are also partial dentures that do not contain a metal framework. We will discuss your options with you during your visit. Partial dentures can help your bite function.

A fixed partial denture replaces one or several teeth. The dentist fits crowns on the teeth besides fitting the artificial teeth. The dentist secures or cements the bridge into place. Fixed or permanent dentures prevent other teeth from moving to occupy the spaces left behind after losing your teeth. Additionally, partial dentures prevent you from using only one side of the mouth while also protecting the teeth against damage from overuse.


Dental Implants

Dental implants are great for restoring a fully natural look and function after you lose teeth due to injury or disease. However, there are some factors to consider in dental implant patients and not everyone is a good candidate for the surgery. Before Aesthetic Periodontal & Implant Specialists can approve you for dental implant surgery, we must first confirm that you are in good overall, oral, and bone health. We must also determine if there are any lifestyle factors that put your success at risk.


Overall Health

Overall health is essential for any type of surgery, especially those that require general anesthesia. Some people become very ill under general anesthetic and this can also have negative interactions with certain medications that you take. In addition, you should not be ill or have a compromised immune system before any type of surgery. We will, of course, provide a sterile environment for surgery, but we also need to ensure that your body can ward off bacteria if need be.


Oral and Bone Health

There are two factors to consider in this qualification: gum disease and bone density. Gum disease often causes people to lose their teeth, leading to the need for dental implants. That said, we must ensure that any infection is cleared up before the surgery. Active infection can spread into the bone during surgery, which could then lead to bone loss in the future.

Bone density is a measure of the amount of bone mineral that is present in your bone tissue. In simpler terms, it is the strength of your bone structure. Your bone must have adequate strength to support a dental implant or you will experience injury and other complications. We can increase bone strength through preparatory procedures like bone and sinus augmentation or ridge expansion. Bone augmentation utilizes growth factors and bone additives to increase your jawbone's mass. Sinus augmentation elevates the sinus floor to increase the amount of available bone tissue. A ridge expansion is the use of a bone graft to widen the jawbone.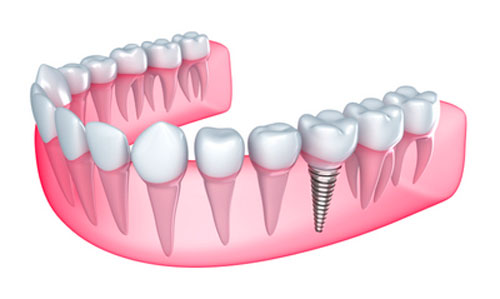 Lifestyle

There are three key lifestyle elements that can affect surgery success: substance use, diet, and oral hygiene. Substance use mainly refers to tobacco, though there are some other substances and medications that could affect the strength of your jawbone. You would need to discuss this in further detail with the prescribing physician. Tobacco, both chewing and smoking, can negatively affect your oral health and damage the jawbone. So, you will need to stop using these substances in order to qualify for surgery.

Regarding diet, we will give you more information on the types of foods and beverages to avoid. In general, a balanced and nutritious diet can preserve your oral and overall health. In addition, we recommend eating only soft foods for a period of time following surgery. Chewing on hard or sticky foods would be painful and could irritate the surgical site.

Oral hygiene is very basic, but also very important, for dental implant surgery recovery. In general, this includes brushing two times each day and flossing at least once each day.

For more information on dentures, dental implants, and other tooth restoration options, call Aesthetic Periodontal & Implant Specialists at (210) 614-4700 for more information.